2020 Holiday Gift Ideas for the Expecting Mama & Baby  
Hillary Sadler | November 23, 2020
Are your holiday decorations up yet? My family is definitely listening to the holiday music and I'm deciding what should be put up "early". Because it's 2020 and there are no more rules for when we can enjoy what we want to enjoy. 😉
 In light of the holiday season I wanted to take a break and share a few items I always love to make sure my friends are getting when they're expecting. These is a list I've compiled with truly items I love. And they are things I've purchased (or would have purchased if they had been around when I was in that season) … or given as gifts to expecting moms or babies….  
Expecting Mama Holiday Gifts
First, let's talk about the expecting Mama. What does she REALLY need? I know you want to buy her clothes for her soon to be baby, but I have a few ideas of alternative items for you to consider.
The Hatch Rest + Baby Sound Machine can be used during pregnancy, especially at the end when most preggo ladies are up multiple times throughout the night having to go to the bathroom. I love that it has a white noise option, nightlight for nighttime feeding, and it can be transitioned to your baby's room as they grow and eventually used as a kid alarm clock into their teenage years. It's a smart purchase for sure!
I also can't help but suggest this next one. After all, I am an educator and two I really do wish I had this information for my baby journey. Dr. Google is not a reliable (or evidence-based) source for education. Education for expecting Mama's. Knowledge is power and confidence. Consider a birth, baby, or breastfeeding course for the expecting mama. There are many options available, and Baby Settler has three on-demand courses. While I'm sure I'm at least a little biased I can personally guarantee a happy Mama and baby with any of these courses: Babies Made Simple, Birth Made Simple or Breastfeeding Made Simple. 
Not sure which course to Gift? Give the expecting Mama a Gift Certificate so she can pick out her own course!
Still thinking but baby clothes are SO cute? They are but keep in mind, Mama probably has a preference for certain colors/material/look, but if you feel like you will nail this look I always recommend the Kissy Kissy brand. I love their clothes. You can't go wrong with white or sticking to neutrals. This will help Mama have an item she can future proof.
Newborn Holiday Gifts
What about a gift for the newborn? First, let's keep in mind if baby was delivered between October and Christmas it is okay to gift essentials. Baby will have plenty of time to enjoy all the other items that come with Christmas. 
Two of my three babies were November babies…and their first Christmas were the simplest Christmas' we ever had! So, what would be a couple of good essentials for those early days? Here you go!  
Mustela is one of my favorite brands for newborns, and you can't go wrong with their Newborn Arrival Gift Set.
If the Mama in your life still doesn't have a baby carrier she loves… I highly recommend Solly Baby wraps and the Ergo baby carrier. I used both of them, and our Ergo carrier was used well into the first year.
Another great gift is a humidifier. Especially for the wintertime dry air. I really like this one from Pure Enrichment. Pure Enrichment MistAire Ultrasonic Cool Mist Humidifier – Premium Humidifying Unit with Whisper-Quiet Operation, Automatic Shut-Off and Night Light Function – Lasts Up to 16 Hours It can be used for Mama and Baby! And again, it's another gift that'll last through infancy into toddlerhood.
If the Mama you're gifting hasn't gotten a changing table yet, I highly recommend the Keekaroo Peanut Changer – it is a GREAT option. This was a new baby purchase for me with baby # 3. And I wish I had it with my other two babies. I love it because it's got a no slip grip, perfect shape for keeping your little squirmy baby safe from rolling off (obviously, never walk away from your baby while they're on the changing table…), and you can wipe it clean! (It WILL get dirty) Plus, the Keekaroo Changer grows with your baby…it'll be the changer you can use until you little one if wearing big kids pants.
If the Mama you're gifting is breastfeeding, I highly recommend the HaaKaa Manual Breast Pump as a great gift. You can read this post about my three favorite uses for the HaaKaa for breastmilk feeding Mama's! This little tool is a must have. It's an easy way to start building Mama's "stash!".
Three Month & Beyond Baby Holiday Gifts
What about babies who are older than three months? Babies this age are really starting to notice and explore their world! I love this activity mat from Skip Hop (BONUS: it's cute! And is able to go with different type of home decor). This mat is great for tummy time and when they begin to sit!
I love the Bumbo Seat. My babies always enjoyed sitting in this seat while I was cooking in the kitchen. You have to be careful where you place the seat, but when safety precautions are taken, it's a great place for your baby to be involved in family life while also working on sitting upright and building those core muscles.
 NumNum Pre-Spoon GOOtensils | Baby Spoon Set. I really like these for babies who is less then 6 months old. They help introduce different texture, and they can really help a baby who is struggling with textures (especially help for those breastfeeding babies who've only every had a breast nipple in their mouth). In addition, they are helpful/soothing to babies as they start to get their first teeth!
Tired of bottle brushes and dish rags for cleaning and drying pump or bottle parts all over your counter? I love these options. And true story: these items hung around on my countertop well after the bottles and pump parts were gone… Boon Patch Countertop Drying Rack and Boon Cacti Bottle Cleaning Brush Set
Final bit of advice. When you are picking out a gift for a new or expecting Mama, make sure to consider her style and interests. It's easy to pick out what we like but if you've been in the Mama shoes before it's easy to end up with a lot of things that don't feel like you. Feel overwhelmed by the options? When in doubt, gift it out! Gift Certificates are always a great gift for any new mama!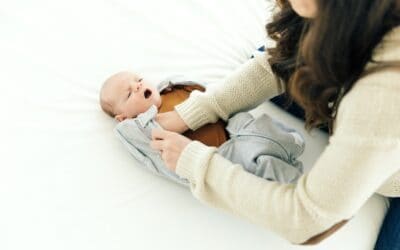 Newborn babies sleep a lot! They're asleep more than they're awake in the first few weeks of life. While they can sleep for most of the day, it can be in short bursts. Newborns need to wake up often to feed because they have tiny tummies that need to be filled...
Find me on Instagram for daily support