Jessica's Story 
Guest Contributer, Jessica S.| August 15, 2020
In the early days a friend of ours who had challenges with breastfeeding shared the sentiment 'breastfeeding is 100% natural until it's not.' That really resonated with me.
Having a baby can be an isolating experience, having a baby during a pandemic… SUPER isolating. The postpartum plan we had before COVID-19 we adjusted on the fly to be without any type of outside support.
When our daughter was born it was at the very beginning of COVID-19, I remember not knowing until the night my husband took me to the ER to give birth if he was even going to be able to be with me/us. Thankfully he was and we gave birth to an amazing baby girl. When she was born she latched right away and the first day of life. After that day, latching was difficult for her. She had a high roof palette and we learned we were going to have to teach her how to latch. (Hillary also helped us find a lip tie that made that learning curve a little extra.)
The hospital gave us the tools and information we needed to ensure we were feeding our daughter properly. What we didn't expect to happen, was for me to end up with an over-supply of milk, causing so much pain I couldn't hold my new baby. It was recommended we reach out to Lactation Consultants for additional help. We talked to several. We got to the point where we doubted there was hope to continue to provide our daughter breast milk and give her the chance to nurse on her own (spoiler: she did begin nursing on her own).
Mom guilt set in. I was one of the "lucky" few to have too much milk. How could I not just suck it up for her. Lucky look liked, constant engorgement, painful lumps, changing nursing pads every hour or so because they were soaked and so much milk I could never pump enough to be even close to empty. I couldn't bend over, I often cried when we did skin to skin because as tiny as our daughter was the extra weight HURT. This was not the newborn period we had planned for. Finding solutions on the great Internet weren't there.
I was at my six weeks post-partum OB checkup. I sat on that little table, exhausted from the rigors of constant pumping/double feeding, gown soaked, cringing at the thought of the breast exam and discussed with my doctor if there were any other options for us. She recommended I look up Baby Settler. I did as soon as I got home, and that's when things changed.
My husband and I scheduled a 1:1 consult with Hillary initially. My situation was unique and we needed that extra insight. We then followed that up with Babies and Breastfeeding education.
Things immediately changed. Hillary helped me get my supply under control. She didn't judge my doubt or make me feel like the only solution was to get my baby back to breast. She gave me/us the space to make decisions not from a place of distress. We were able to learn from her babies and breastfeeding courses ways to best support our baby through sleep and feeding. And we benefited from this information too. The first night we slept for six hours was glorious. 🙂
Today, my husband and I feel empowered and knowledged that we've "unlocked" the baby secrets. If a morning nap goes awry, it's okay because we know how to reorganize the day. I've had the immense joy of nursing our daughter and pumping not to get out of pain but so my husband can also enjoy feeding our little babe.
I don't know what would have happened to our newborn period or where we would be today. While I'm confident we all would have been "fine", Hillary gave us the tools to thrive. And during unprecedented times, we are thriving. Even with it just being the two of us, working full time jobs, caring full time for a baby, we all get sleep, we all get fed, we have play time together and we are excited about each and every day.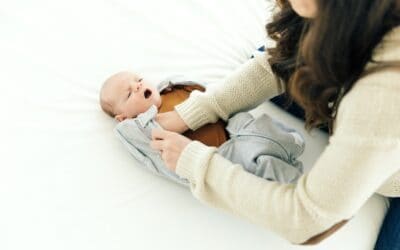 Newborn babies sleep a lot! They're asleep more than they're awake in the first few weeks of life. While they can sleep for most of the day, it can be in short bursts. Newborns need to wake up often to feed because they have tiny tummies that need to be filled...
Find me on Instagram for daily support