Pumping. Part Three. Using Your Breast Pump.
Hillary Sadler | February 16, 2021
I get it. Breast pumps can be overwhelming, and there isn't a lot of clear information out there on how to maintain them, use them or what all the parts mean. I wanted to take a moment to break down a few key things you SHOULD know about using your breast pump. From flange sizes, to cleaning, how long to pump and information about power pumping. Your breast pump can be a great tool to support you in your nursing journey. Okay, let's dive in!
Flange size.
You want to make sure you have the correct flange size for your nipple. It's better for the flange to be a little bit big as opposed to being too small. Your nipple will probably change over the course of your pumping journey. If you're having difficulty figuring your flange size, reach out to a lactation consultant. Having the right flange size affects how much milk you're able to pump.
Cleaning pump parts.
I'm going to make the disclaimer that you should use warm soapy water to wash your pump parts with each pump use. That's the recommendation of the CDC. However, I'm also going to share what I personally did. I would NOT recommend using my method until your baby is at least two months old. If you have a preterm baby, it is really important to wash your pump parts after each use.
Also, you want to sterilize your pump parts every 24 hours. You can get a bottle sterilizer, use your dishwasher, or get a steam bag to put in your microwave. Remember how I told you I worked at the hospital? I didn't really have an extra 10 minutes each time I pumped to clean my pump parts.
Changing the membranes.
Do you know what your membranes are? Each pump has membranes specific to their brand. You'll want to make sure you change the membranes at least every three to four weeks, and if you even feel like you're all of a sudden pumping less volume… change the membranes.
How long do I pump?
That's a great question! On average, your plan should be to double pump for about 15 minutes each time you pump. However, there are some Mamas who will be able to pump 6 + ounces in less than 10 minutes. When you're pumping in place of a breast feed, I'd feel most comfortable with a pumping time of at least 10 minutes. However, if you pump 8 to 10 ounces in 5 minutes…I wouldn't recommend you pump much past 5 minutes. Listen to your body.
Power pumping.
Maybe you've heard this term before. Power pumping can be done when you notice a decrease in supply after returning to work. Or really…whenever you notice a decrease in supply. With power pumping, you'll want to plan to find a cozy spot and plan to chill, relax, veg out…for about 60 minutes. The process will be to…pump for 10 minutes, turn the pump off for 10 mins…pump for 10, off for 10…pump for 10, off for 10…pump for 10. The reason you want to have these short, frequent pumping sessions is because you want those frequent spikes in the hormone prolactin. Prolactin peaks and starts to fall after about 20 minutes. So, those long continuous pumping sessions are not really ideal to help boost your supply.
How much should I get when I pump? It's going to be different for each Mama. An average of about four to eight ounces is expected. However, remember that your supply is going to fluctuate throughout the day.
You've got this Mama!
Hillary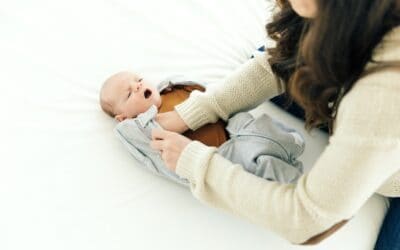 Newborn babies sleep a lot! They're asleep more than they're awake in the first few weeks of life. While they can sleep for most of the day, it can be in short bursts. Newborns need to wake up often to feed because they have tiny tummies that need to be filled...