Children learn through play. This learning begins so early, even with newborn playtime. Focusing on purposeful play with engaging toys for baby is beneficial for their development. But, how do you know what toys to get? There is one company I've found that takes the guesswork out of playtime with creative toys that actually look good in homes. 
I have four kids, and I am highly influenced by my space – I do not like a bunch of stuff lying around. I need an organized play space. But, I remember when I brought my first baby home, I was just trying to figure out how to play with them!
Babysitting was never my thing, and to be completely honest, I wasn't really into kids before I had my own. So I came home with my baby, we got past the first initial week where everything was just about feeding and changing diapers and sleep. Then, I struggled to figure out how I was going to play with my baby. How are we gonna fill the wait time with activities and what do I do during tummy time? 
"Child play can promote brain development in many ways, including providing the child with a better understanding of the world and setting the groundwork for later brain growth," explains Parenting For Brain.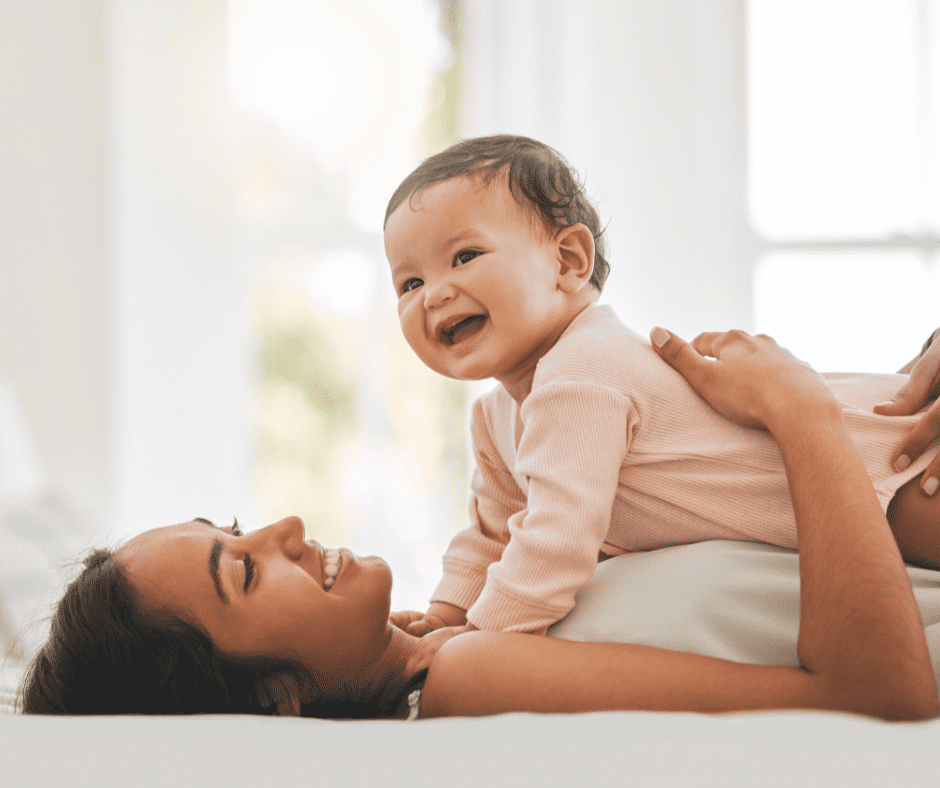 Just engaging with your newborn baby in a multitude of ways – such as reading and singing to them – is extremely beneficial. However, you need to start taking things up a notch as your baby grows.  
As babies get older, they need some engaging, purposeful play. I would buy tons of toys on Amazon and at Target and they just weren't interested in them. And, I began accumulating all of these toys. While I do recognize that there are parenting tips suggesting that you change out the bins and only have a couple of toys at a time (these strategies can be super helpful!), it wasn't working. At the end of the day if the toys are not engaging or developmentally appropriate, then they're not going to hold their attention. 
"Choosing the right toy or game can increase independence, creativity and curiosity while exploring problem-solving, feelings and social interactions. When picking a toy or game it is important to keep in mind how it will enhance development and encourage exploration, experimentation and creativity," tells Michigan State University. 
We need children to engage in purposeful play. But, we also need to be able to do all the other things that we do in the house as a parent while knowing that our child is enjoying independent play. 
"By coming up with his own games, figuring out how to do a puzzle or finally maneuvering the triangle in the shape sorter, your child will develop self-reliance and confidence in his own abilities. He'll also get to practice calling the shots (something he rarely gets to do in the real world) and learn that he enjoys his own company," says What To Expect about the importance of solo playtime. 
Fast forward to my third child. I figured out that it was really important to have a purposeful play plan. This is to ensure that my kids actually enjoy the toys and that the toys match a more minimalist parenting style. Enter Lovevery – clutter-free toys for baby!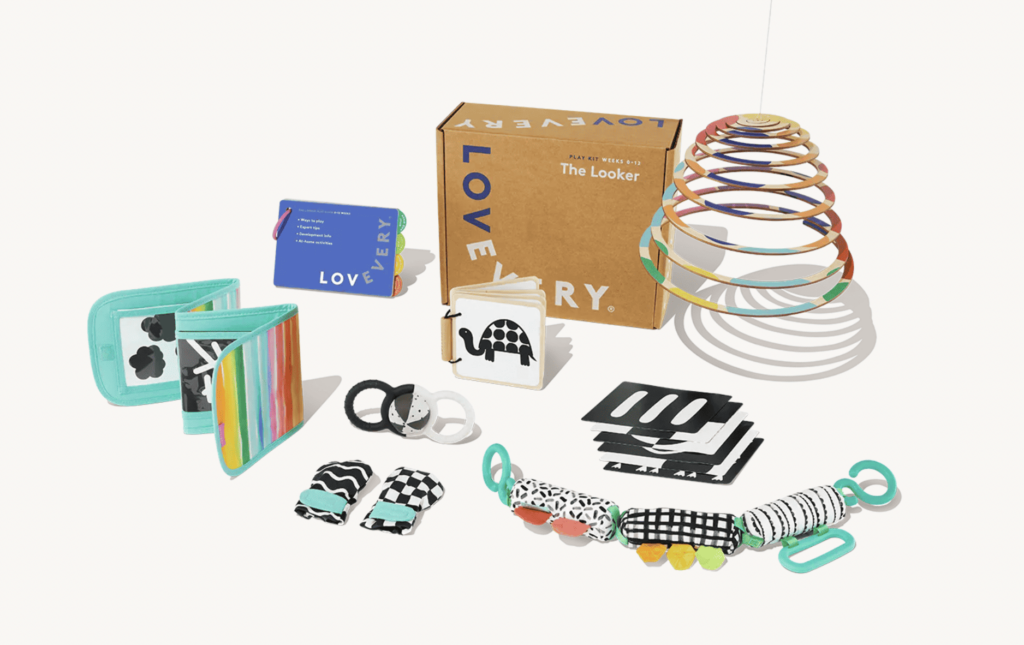 Lovevery Play Kit Review
To be completely honest, I am a very type-A, organized, task-oriented person. It was stressful to me not knowing how to play with my newborn or what toys to present to them. I was happy to finally find the solution for that, and that solution has been the Lovevery Subscription Play Kit. It's genius! 
It's an awesome subscription play kit (delivered every two to three months) for every age and stage of childhood. You can opt in at any time. Whether you have an older baby, you're pregnant, or you're looking for a gift to buy for someone who's expecting, it is money well spent.
The clutter and chaos that comes with traditional toys is very stressful for a type-A mom like me. These play kits help take that away. You're able to have toys that look good in your home and are organized.
I got a little table from Lovevery for my youngest. I just love it! It's a great feature in his bedroom. We've got the toys stacked on it. This allows him to go and get the toys that he wants to play with. 
The Lovevery Play Kits remove the guesswork and the clutter by providing curated, age-appropriate toys for baby that blend seamlessly into your living space. Honestly, newborn play is daunting to understand unless you are a child behavioral therapist or you have extensive knowledge of the subject. By the time you gather all the information and resources to be able to figure that out, your baby is probably on to the next stage, and you need to start that research all over again. 
These kits take that out of the equation. I was actually amazed when I did the Lovevery Play Kit unboxing for my 14-month-old. I thought to myself, "I wonder if he's gonna be interested in this stuff?". He loved every single thing in this play kit. One of the toys is a little bunny house. I had no idea that he was going to enjoy it so much! He carries these little bunnies around, hides them, brings them up to us, and asks us to give kisses. I just love watching him play with these little bunnies. I never would have thought that that would be a hit. Lovevery knows what developmental age your child is, and they pack the kit full of things that are going to grab their attention. 
Lovevery sends you an activity booklet whenever you get your subscription. This tells you how to play with the toys that are in the kit. It gives you ideas for baby play activities, expert tips, and developmental information. They also give you ideas for purposeful play outside of the products that they're sending you, which is so, so valuable.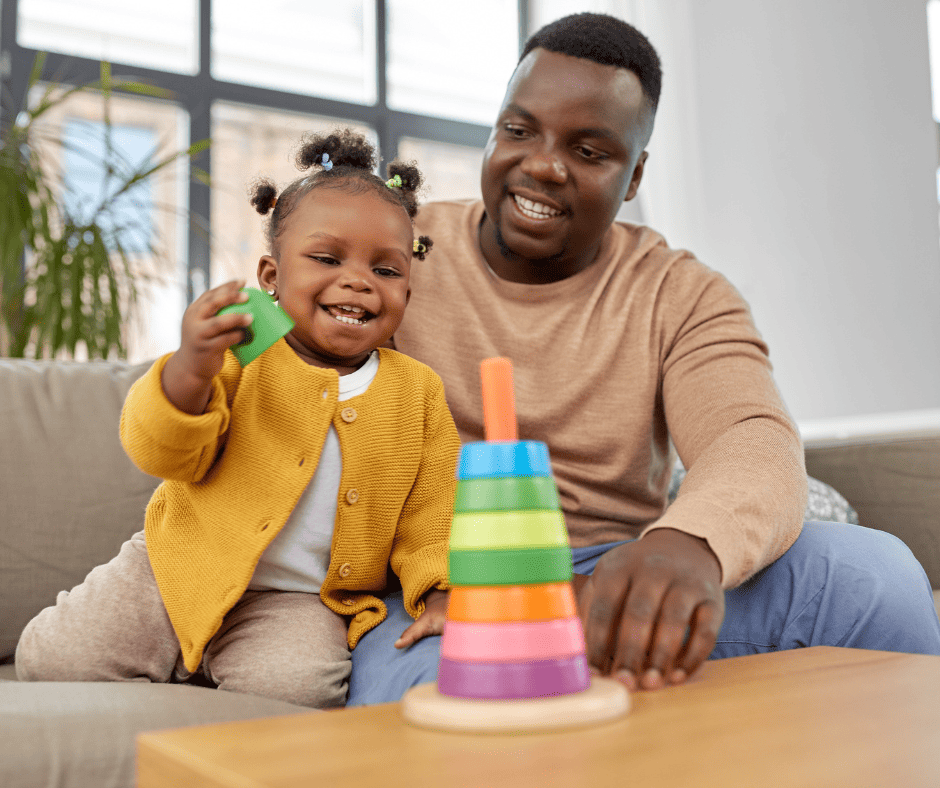 The way that children learn is through play. Purposeful play with baby can go a long way in helping them reach their developmental milestones. 
If you want to learn more about newborn sleep milestones and are looking for a new parent guide on how to get your baby to sleep for longer, get my free guide here!