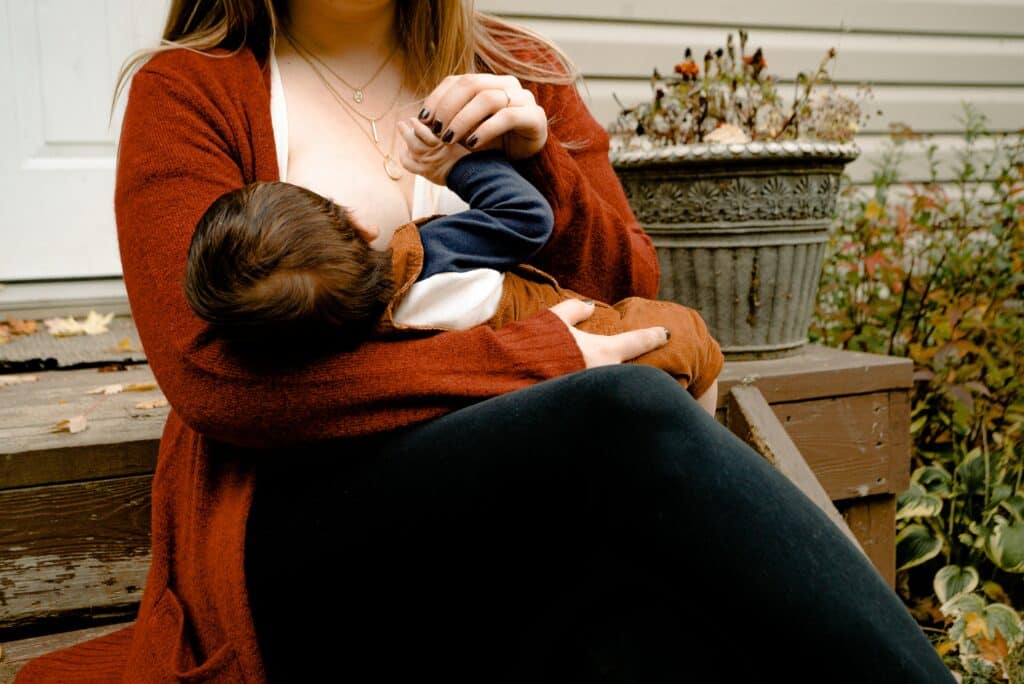 Are you a new mama who has just not gotten the hang of breastfeeding? Is your newborn struggling to latch and you're ready to give up and reach for a bottle? It may be time to switch up the breastfeeding positions you use. The right breastfeeding position can make a huge difference in the success and enjoyment of breastfeeding for both you and your baby.
Why Is The Breastfeeding Position You're In Important?
From comfort to your baby's ability to drink milk effectively, the position you're in when breastfeeding has a big impact on the overall experience.
Comfort
Breastfeeding can be uncomfortable, and even painful! Back and shoulder pains, as well as general discomfort, do not have to be part and parcel of breastfeeding your baby. A comfortable position can help you relax during breastfeeding, and when you're relaxed you can have better milk flow which results in a way more positive experience for both you and your newborn. 
Milk Flow
The position of your baby during breastfeeding also affects the flow of your milk. The right breastfeeding position can even prevent nipple pain and engorgement! Why? Because when a baby is correctly aligned with the breast and nipple, they're able to feed more effectively.
Latch
Your breastfeeding position and latching go hand-in-hand. "As well as being frustrating and distressing for your baby, a poor breastfeeding latch can give you sore nipples. It may also mean your baby can't drain your breast effectively, leading to poor weight gain, reducing your milk supply, and putting you at increased risk of blocked milk ducts and mastitis," explains Medela. When your baby is in the right breastfeeding position, they're way more likely to latch effectively.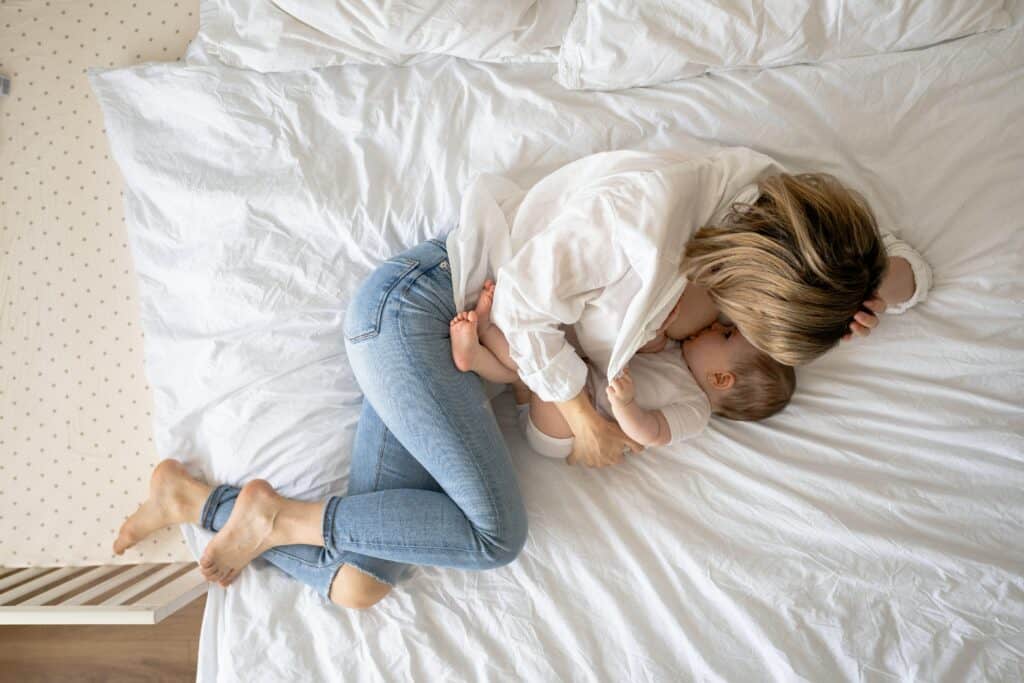 Breastfeeding Positions For Newborns
Finding a position that's both comfortable for you and your baby will promote full and efficient feeds. Here are four to try:
Cross Cradle Breastfeeding Position
This is a super common breastfeeding position because it fully supports your newborn. "It is a great position when you are first starting out with breastfeeding because it allows you to easily view your nipple and your baby's mouth," says Very Well Family. Tuck your baby into the crook of your arm so that their bottom is at the inside of your elbow and you're stomach-to-stomach. Your baby's body will be along the length of your arm. It's called 'cross cradle' because your baby is feeding at the opposite breast – so you are feeding from your left breast, you will be holding your baby with your right arm.
Top Tip: Try to sit up straight to avoid back pain.
Football Breastfeeding Position
This is a great breastfeeding position for after a c-section as your baby is not laying across your stomach. Tuck your newborn underneath your arm like a football supporting their head. They'll feed on the same side – so if you're holding your baby with your right arm, they'll feed from your right breast. This is also one of the best breastfeeding positions for reflux as your baby's head is held slightly higher than their bottom.
Top Tip: Let your little one rest on a breastfeeding pillow for this position.
Laid Back Breastfeeding Position
This is one of the easiest breastfeeding positions for newborns and is especially great for when your milk is coming in because it allows your baby to better control the milk flow. Lay back in a semi-reclined position and let your baby lay down the length of your torso. This allows the natural instincts of your baby to kick in. "Laid-back breastfeeding allows a newborn's natural reflexes and a breastfeeding parent's innate behaviors to work together to encourage breastfeeding success while the parent literally lies back," tells Healthline.  
Top Tip: Use this breastfeeding position to also get some skin-to-skin contact.
Side Lying Breastfeeding Position
This is my favorite breastfeeding position! It usually takes a few weeks before mama and baby can get comfortable with this one, but it's so worth it. Lay your baby down on their back wherever you intend to breastfeed. Position yourself on your side next to them with your breasts near their head and your nipple at nose level. Once you're comfortable, roll your newborn to their side and guide them to latch.
Baby Settler goes into these positions in depth on the YouTube channel.
4 Signs You Need To Try A New Breastfeeding Position
There are a few tell-tale signs that your go-to breastfeeding position isn't optimal.
Your baby is fussy after feeding or while at the breast.
Fussiness when feeding can mean that your newborn is getting frustrated because they're not easily getting milk.
Painful latch.
No, mama, breastfeeding should not be painful! If you're experiencing pain, it could be due to an incorrect latch. Changing up breastfeeding positions can help your baby latch more effectively.
Back pain.
Slouching during breastfeeding or holding your baby in an awkward position can cause back pain. Alternating positions during feeding, taking breaks, and gentle exercises like stretching can all help relieve back pain.
Baby keeps unlatching from the breast.
If your baby can't stay at the breast, it could mean that they're struggling in the current breastfeeding position they're in and can't get sufficient milk. 
The position that you use to feed your baby can make a huge difference in your breastfeeding experience. If you're struggling to get the hang of breastfeeding and your baby just can't seem to latch effectively, don't suffer in silence. This is why lactation consultants are here! During a consultation with us, we can evaluate all of this to make suggestions that will support your feeding journey goals.