The HaaKaa Manual Breast Pump
Hillary Sadler | September 25, 2020
Alright MaMa. Let's talk about breast milk and a handy tool that can help rather you are breastfeeding or pumping. It's called a Haakaa. Not to be confused with Hakuna Matata. 😉 So, what is a Haakaa? It's a silicone manual breast pump that allows you to effectively express your breast milk. It's portable, travel friendly and all you have to do is use the power of suction to use it. No wires and no batteries are needed. And as far as I'm concerned it is a "must have" for all breast milk feeding MaMa's. Let's dig into why…
Let's start with learning that, your milk will transition from the colostrum stage to transitional milk to mature milk. This is important because you'll want to know how to use the Haakaa effectively during these transitions. In the Breastfeeding course, I go into details about each of these stages and discuss supplementation. For today, I'm going to keep things at a higher level.
When your milk first "comes in" (the transition stage), you might experience engorgement. And you're not alone, a lot of women do. Sometimes, it can make it difficult for baby's to latch when your breast is so full and oftentimes hard from engorgement. Your baby has just gotten the hang of latching to your breast, then it goes and changes on them! Massaging your breast and using the HaaKaa prior to latching can help soften your breast and make it easier for your baby to latch. With the Haakaa, you attach it to your breast and do a bit of massage and passively collect some ounces to store! This technique has been really helpful for many mothers who've experienced engorgement during the first week postpartum while getting Baby to latch. 
Let's stay with those early days and discuss supplementing with breast milk collected with the
HaaKaa
. Sometimes baby's need to be supplemented in the early days. There are many variables that may have your pediatric provider recommend you start supplementing your baby. A good example is, sometimes in the early days breastfeeding babies get tired (for a variety of reasons, one common reason could be jaundice) at the breast and don't transfer milk as efficiently as needed to get the volume they need. If your baby is feeding from one breast but not feeding from the other, and your pediatric provider wants you to supplement your baby…you can use the
HaaKaa
to collect breast milk and supplement your baby with the breast milk collected. It is important to have a lactation consultant help you make a specific plan for you and your baby, and as a lactation consultant myself, I've made breastfeeding and supplementing plans for mother's and baby's like this one.
Now, let's talk about a triple feed. Breastfeeding, supplementing, and pumping at each feed is considered a triple feed. And it can be really exhausting for mothers (and partners!). Using the
HaaKaa
to collect expressed breastmilk and supplement your baby is so much easier than using an electric pump. Don't forget, there are many factors to consider when you find yourself in this situation, and it bears repeating, you need to make sure to utilize a lactation consultant who can help you make a place specific to you and your baby's needs.
Next up, your milk is transitioning and really coming in. Your baby might not make it to both breasts at each feeding. You're in the building stage of breast milk production and your baby's stomach is expanding, you want to try to have stimulation and milk removal on both breasts at each feeding. Why? Because today your baby might not need to feed from both breasts, but tomorrow as their stomach is growing, they might! And you want to have the breast milk available for when they do. 
Alright Mama, you've made it to the maintenance stage (usually 4 weeks postpartum) your baby may mostly feed on one side at each feeding, and that's OK! You can use your HaaKaa to collect milk from the side you're not feeding from and collect several ounces to store without ever having to use an electric pump. 
The most important thing I want you to take away from this is that you have options. Talk to your lactation consultant and pediatric provider. Breastfeeding is not a one size fits all approach. If you want to learn more or chat with me, I'd invite you to schedule a consult or check out the Breastfeeding Course.
You've got this MaMa!
Hillary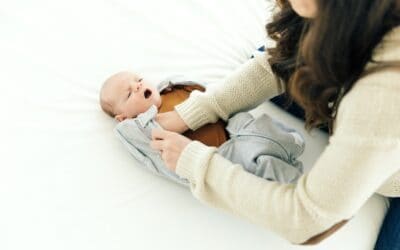 Newborn babies sleep a lot! They're asleep more than they're awake in the first few weeks of life. While they can sleep for most of the day, it can be in short bursts. Newborns need to wake up often to feed because they have tiny tummies that need to be filled...
Find me on Instagram for daily support